How to perform a firmware upgrade?
1. Download the firmware
2. Extract the firmware to the directory c:\etech\
3. Run the program c:\etech\tftp.exe
You will then see following window: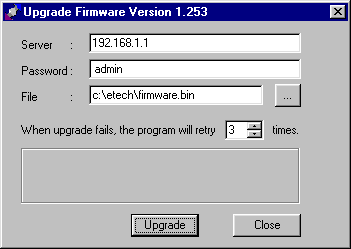 4. Enter as server: 192.168.1.1
5. Enter as password: admin
6. Browse to the correct upgrade file .BIN by clicking on the '...' button
7. Click on the button 'Upgrade'
8. After the firmware update, you need to go to the DEVICE ADMIN menu and perform one time RELOAD FACTORY DEFAULTS=YES
Hoe voer ik een firmware upgrade uit?
1. Download de firmware
2. Pak de firmware uit in de directory c:\etech\
3. Start het programma c:\etech\tftp.exe
U krijgt dan het onderstaande scherm te zien: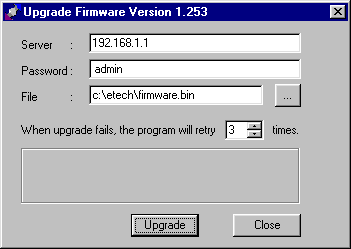 4. Geef als server op: 192.168.1.1
5. Geef als password op: admin
6. Selecteer de juiste upgrade file .BIN door op de '...' knop te klikken
7. Klik op knop 'Upgrade'
8. Na firmware update dient u naar het DEVICE ADMIN menu tegaan en eenmalig RELOAD FACTORY DEFAULTS=YES uit te voeren